While architectural education centers on the studio, designers must ultimately shift their focuses outward; exposure to other cities and cultures allows students to gain valuable perspective. Each semester SCI-Arc facilitates "travel week," during which individual studios plan trips within the U.S. and abroad that relate to current projects.
Second-year M.Arch students in the 2GB Studio (led by SCI-Arc faculty members Andrew Zago, Darin Johnstone, Peter Trummer, and Ramiro Diaz-Granados) visited Chicago, while Mexico City was the destination for third-year B.Arch students in the 3B Studio (led by faculty members Russell Thomsen, Herwig Baumgartner, Maxi Spina, and Jenny Wu). After experiencing many modern and historical sites in Mexico City, 3B students presented design work at El Centro University and engaged in discussions with local architects and theorists.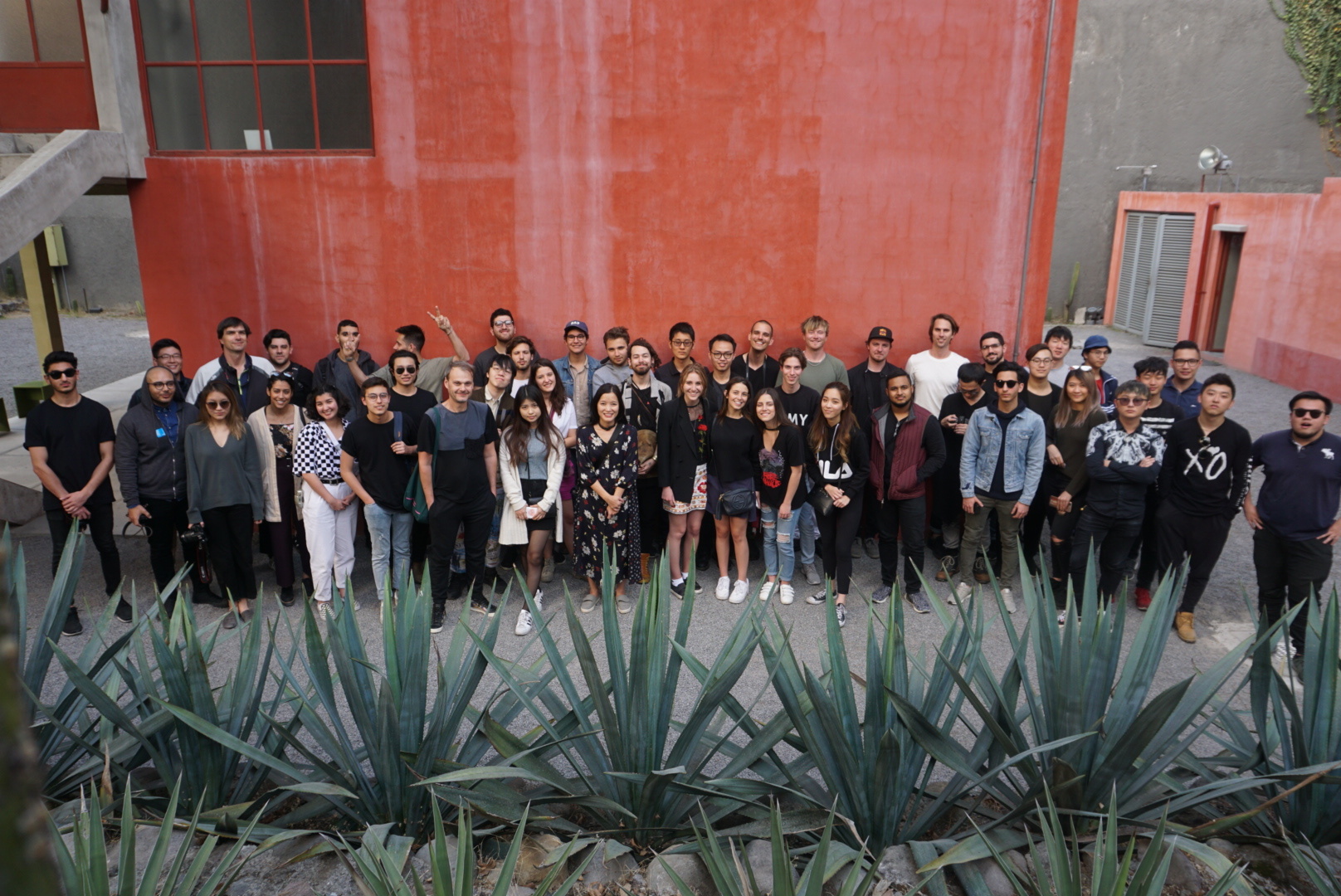 "We are working the topic of adaptive reuse," Spina says. "We're looking at how architects might intervene in the contemporary city and what role site and context play in defining an architectural and urban agenda."
SCI-Arc also offers a range of vertical studios to upper-level B.Arch and M.Arch students as well as those enrolled in post-graduate programs. In anticipation of the 2024 Summer Olympics in Paris (Paris 2024), Brendan MacFarlane and Dominique Jakob of Paris-based Jakob + MacFarlane are leading a studio that examines the effects of such a large-scale event on the fabric of the city.
Students in Natasha Sandmeier's studio traveled a much shorter distance to visit the Salton Sea; however, its stark landscape offers an otherworldly experience. "The studio is working on the hero's journey monomyth with the architect as the central protagonist," Sandmeier says. "We felt it was necessary to go on a journey collectively to experience what it's like to cross terrain, navigate by landmarks, and encounter mentors and allies firsthand."
As part of travel week, a select group of SCI-Arc students participated in a workshop with Nike designers at the company's headquarters in Beaverton, Oregon, which was organized by faculty members Casey Rehm and Rachael McCall. Final presentations related to the workshop were attended by Hernan Diaz Alonso, CEO and Director of SCI-Arc; John Enright, Vice Director and Chief Academic Officer of SCI-Arc; and visiting faculty member Benjamin H. Bratton.