Founded by The Museum of Modern Art (MoMA) in New York and MoMA PS1 in Long Island City, Queens, the annual Young Architects Program (YAP) competition, now in its nineteenth edition, invites emerging architectural talent to develop original designs for a temporary outdoor installation within the courtyard at MoMA PS1. The installation must provide respite in the form of shade, seating, and water for attendees of the museum's annual summer music series. Designs should also be conceived to be built feasibly while adhering to sustainability principles.
Each year, esteemed scholars, professionals, and previous YAP winners nominate approximately 50 firms comprised of recent architectural school graduates, junior faculty, and architects experimenting with new styles or techniques. The nominees are asked to submit portfolios of their work for review by a panel, which then identifies around five finalists who are invited to design preliminary proposals.
Among the 2018 YAP finalists are two SCI-Arc faculty members, David Freeland and Kristy Balliet. The complete list of finalists includes LeCavalier R+D (Jesse LeCavalier), FreelandBuck (David Freeland and Brennan Buck), BairBalliet (Kelly Bair and Kristy Balliet), Jennifer Newsom and Tom Carruthers (Dream The Combine), and OFICINAA (Silvia Benedito and Alexander Häusler).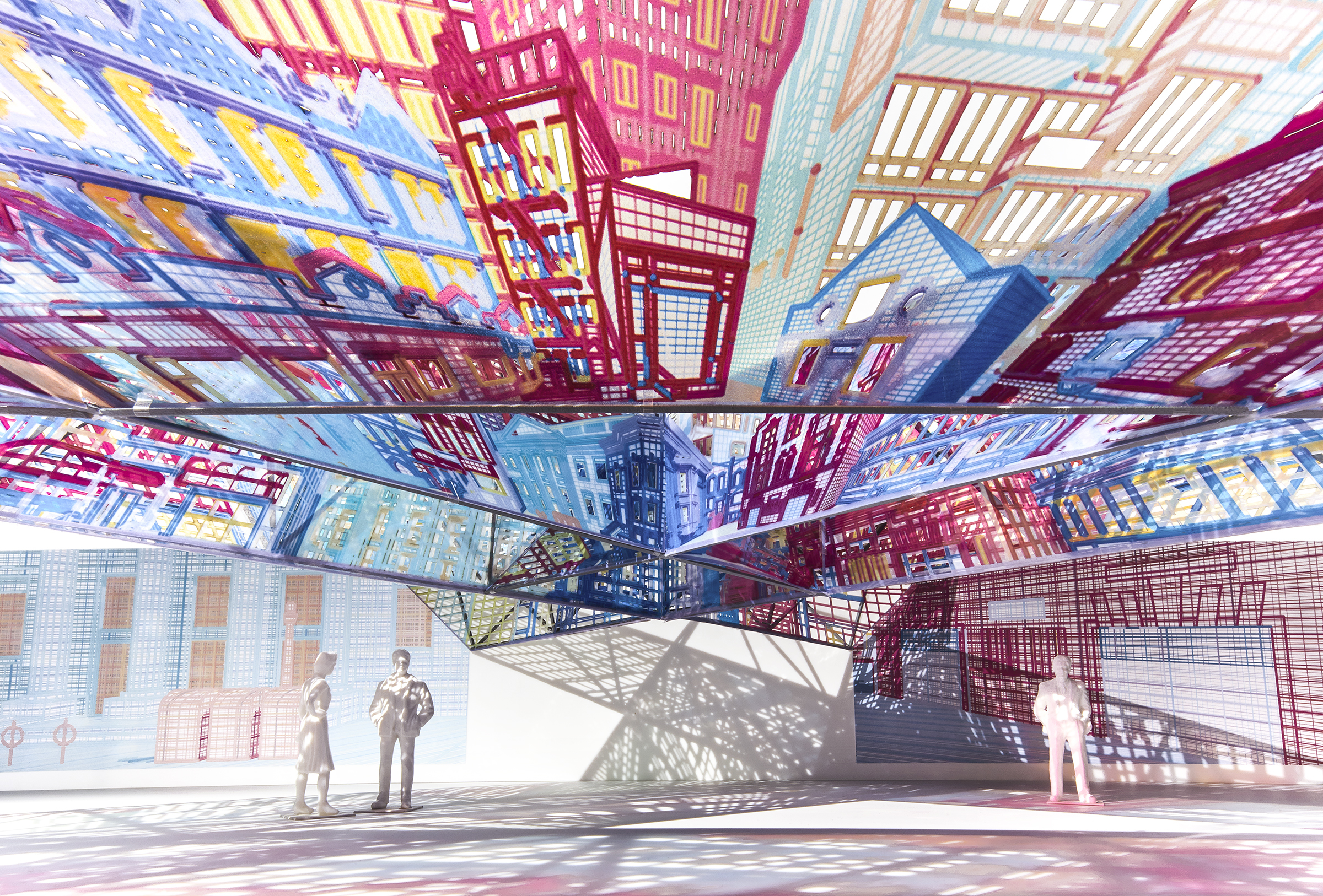 Bi-coastal FreelandBuck, led by David Freeland and Brennan Buck, developed Out of the Picture, which was inspired by elements from the streetscapes of Long Island City— such as stoops, benches, mailboxes, and fire hydrants—as well as their interest in trompe l'oeil drawings. FreelandBuck proposed a canopy that acts as an intricately folded picture plane, defining multiple focused frames of views. The non-woven fabric canopy comprises three interlocking 7­foot­deep triangular trusses that span up to 90 feet between the walls of the PS1 courtyard.
BairBalliet, a collaborative effort between Chicago-based Kelly Bair and Los Angeles–based Kristy Balliet, presented Loud Lines. Bucking the PS1 tradition of canopies or objects, this proposal transforms two-dimensional lines into three-dimensional volumes, which read both as bold urban icons and background frames that form spaces in which PS1 party-goers can inhabit. These structures appear black by day, but at night, a pulsing neon light makes them glow in vibrant colors. Their porous surfaces incorporate misters to cool the courtyard.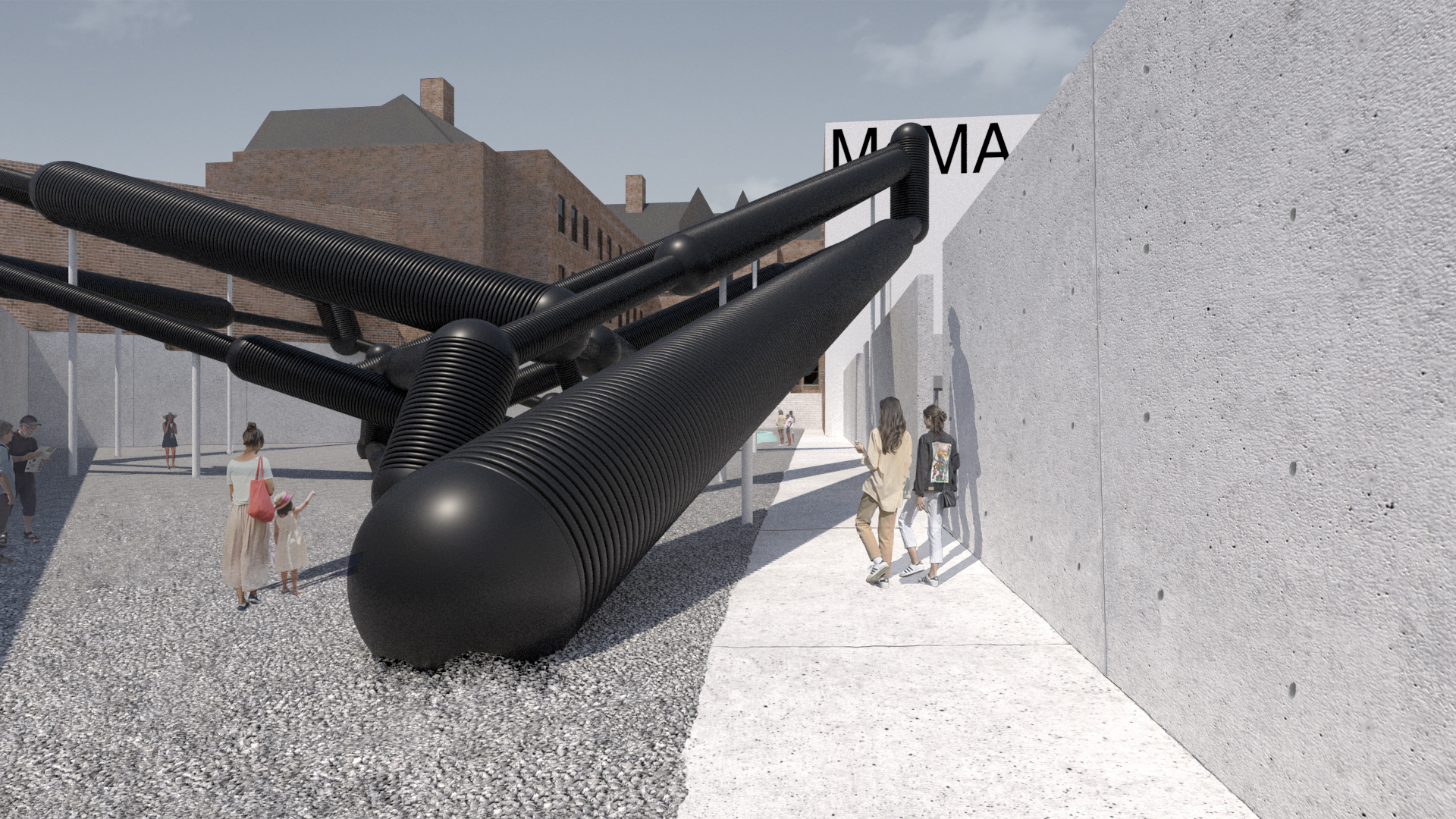 The 2018 YAP winning proposal was recently announced—Hide & Seek by Jennifer Newsom and Tom Carruthers of Dream The Combine, in collaboration with Clayton Binkley of ARUP. An exhibition of the five finalists' proposed projects will be on view at MoMA during Summer 2018. The YAP exhibition will also be hosted by international partners at National Museum of XXI Century Arts (MAXXI) in Rome, Italy, and CONSTRUCTO in Santiago, Chile.
David Freeland and Kristy Balliet will discuss their entries at SCI-Arc on Friday, March 23 at 1pm in classroom 160. Tom Wiscombe will moderate the discussion.