Many retailers face setbacks as consumers gravitate towards online shopping instead of visiting traditional brick-and-mortar stores, but brands like Nike offer appealing alternatives by creating compelling spaces that are more about experiences than transactions.
SCI-Arc alumnus Byron Merritt [M.Arch 1, 1999] is the Vice President of Retail Innovation at Nike, and he is based in the company's headquarters in Beaverton, Oregon. In this role, Merritt's work fuses marketing, design, and innovation and he leads a team that drives how the brand comes to life across all consumer touch points, from physical to digital.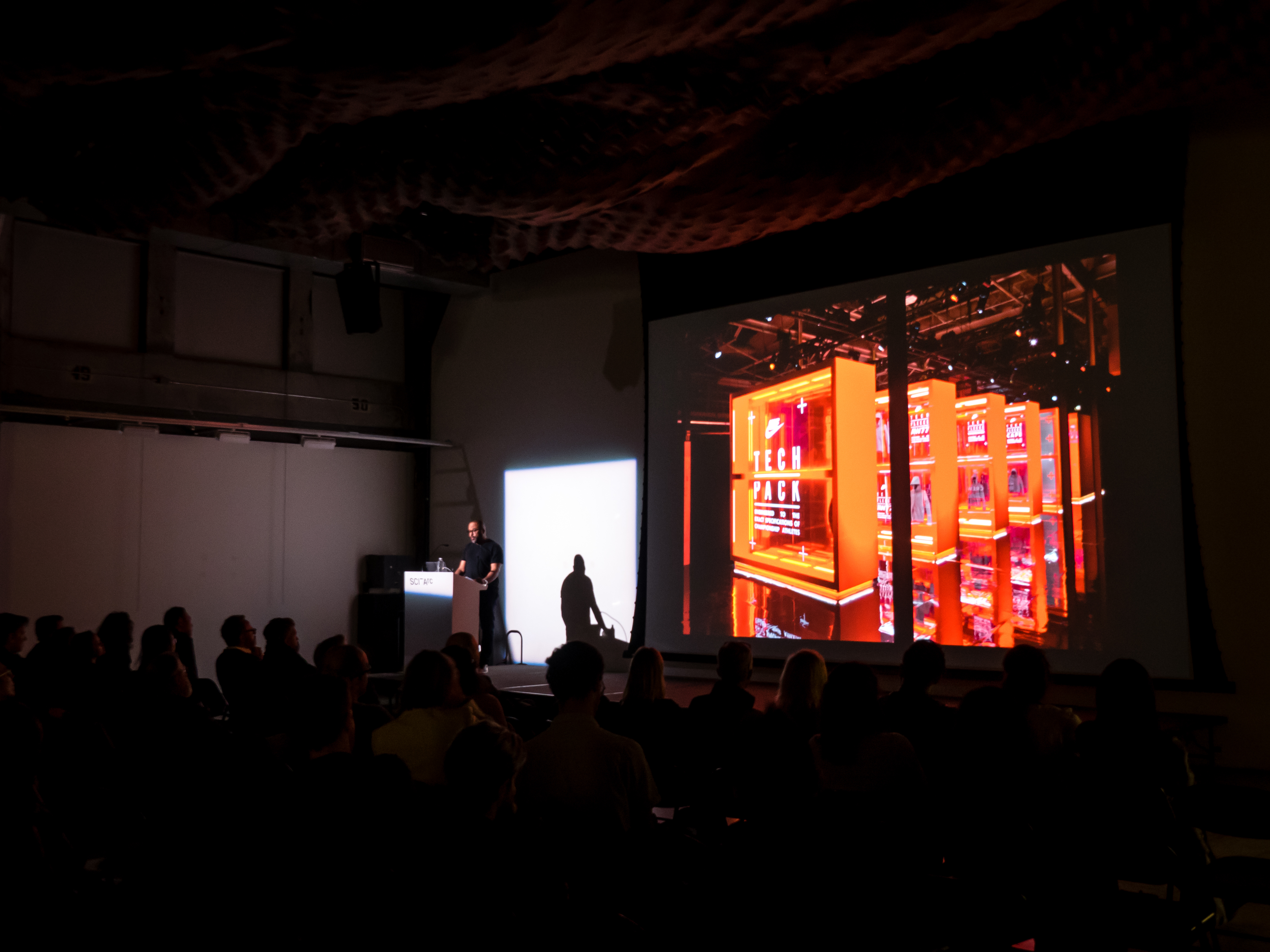 On Wednesday, February 28, Merritt gave a lecture at SCI-Arc and also led a roundtable discussion with a smaller group of faculty and students. Earlier this month, as part of travel week, a select group of SCI-Arc students participated in a workshop with Nike designers at the company's headquarters, which was organized by faculty members Casey Rehm and Rachael McCall.
"It's always a particular moment of pride when we can welcome back one of our distinguished alums," said Hernan Diaz Alonso, SCI-Arc Director and CEO, in his introduction of Merritt. "Byron is very unique in that he can speak to a whole other aspect of what it means to think through the eyes of an architect in an expanded world of the culture of design. More and more, we see people who train as architects and operate in many other areas, and right now we are in a particularly interesting moment in which everybody is searching for new opportunities, ideas, and forms of production.
"There is a tradition in architecture, and particularly in school, that we are often uncomfortable when it comes to creativity, architecture, design, commerce, and branding," Alonso continued. "These bridges need to be crossed in different ways, and I think Byron has done a remarkable job in doing that."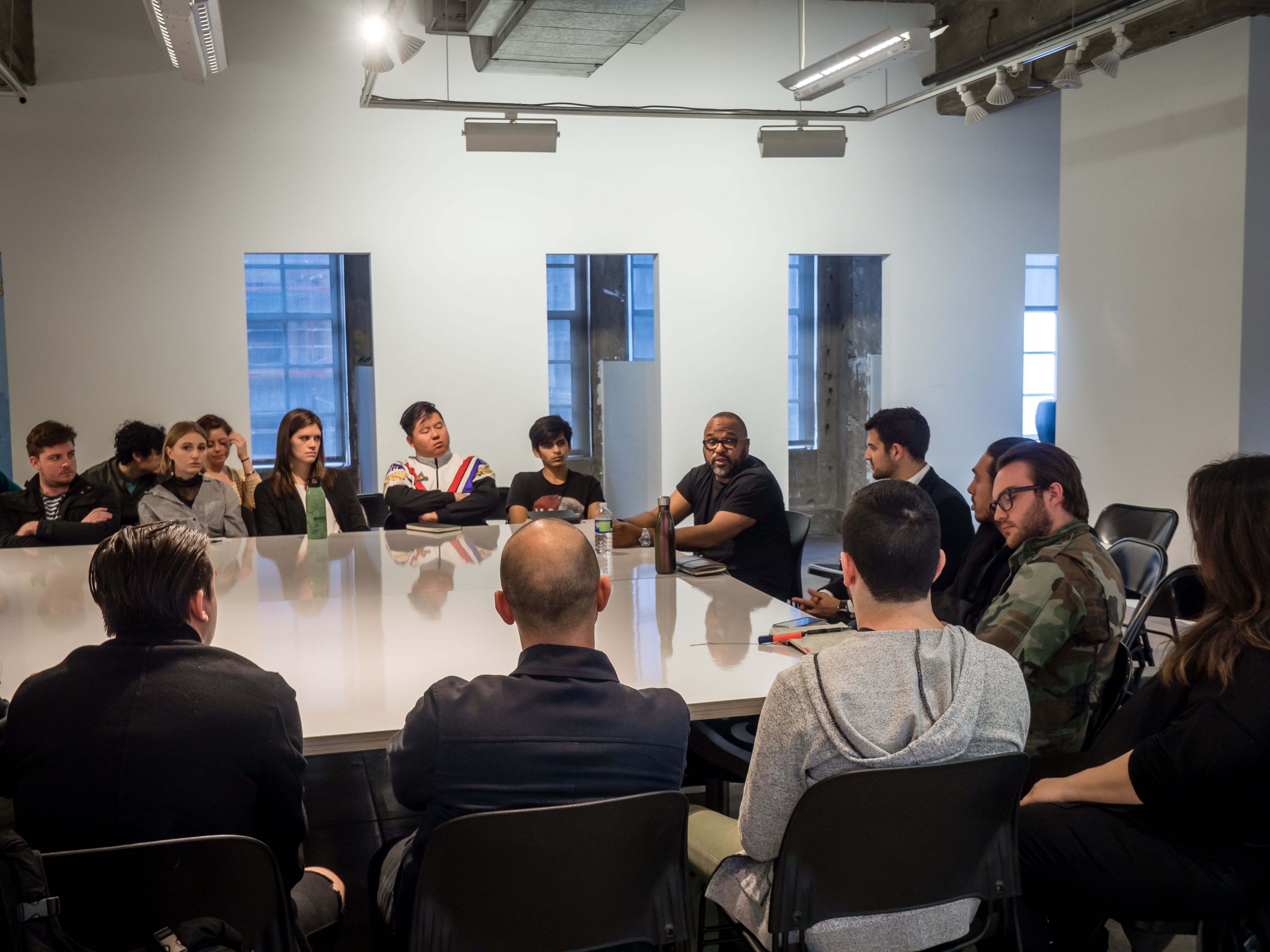 In his 11 years with Nike, Merritt has held a number of roles with the company, all of which have revolved around the notion of experience design. "Innovation has always been a really important thing at Nike," he said. "Our mission is to bring inspiration and innovation to every athlete in the world. And if you have a body, you're an athlete."

Merritt was creative director for Nike's first gaming platform fitness experience, Nike+ Kinect Training, which was designed for Xbox Kinect. He also led the launch of the Nike+ Fuelband activity tracker, including a pop-up space at South by Southwest (SXSW) in Austin. This outdoor experience fused technology, music, and sports, allowing people to move and interact with the product as well as to purchase it. Merritt has since curated several pop-ups for Nike product launches in New York's Moynihan Station—a former post office that's being converted into an Amtrak station. He appreciates the roughness and rawness of its cavernous spaces, which provide a blank canvas for him and his team to highlight products and choreograph experiences through sound, lighting, videography, graphics, and displays.
Nike had previously offered online product customization options, but now customers can receive personalized wares within minutes instead of weeks, thanks to innovations by Merritt and his team. Introduced in 2013, SWOOSHiD embedded interactive monitors into traditional retail displays, allowing customers to make small tweaks, such as choosing "swoosh" colors and patterns, and have them digitally printed onsite.
Expanding on this concept, the brand recently introduced Nike by You—a true maker experience within its SoHo New York retail location. An interactive wall and live project mapping technology, developed in collaboration with W+K Lodge, allows customers to stand within this arena and see real-time changes projected onto their feet. A maker cell within the space produces finished products in under an hour.
"At Nike, good ideas win, and being able to articulate good ideas lets them rise to the surface," said Merritt, who emphasizes the importance of his architectural education at SCI-Arc. "Having a breadth of understanding and being able to work and empathize with many disciplines to make ideas come to life is not unlike making buildings—it's not a solo endeavor."