At Mexico City's third annual Mextropoli Festival, SCI-Arc Faculty members Curime Batliner and Jake Newsum were the minds behind "Spheres of Influence," a temporary installation sponsored by SCI-Arc and supported by Staubli, installed in the patio of Laboratorio Arte Alameda. Centrally located in Mexico's capital city, the four-day festival brought architects, designers, urbanists, sociologists, artists and citizens together to interpret public space through art, design, and dialogue.

Part installation and part live performance, "Spheres of Influence" used a robotic system from Staubli to paint layers of graphics abstracted from the city in a series of human-scale spheres. The placement of the spheres along the plateaus of the museum's patio defined the flow of festival goers between the park--the public space--and the adjacent museum--a semi-private space, "This change in the flow of people, and how they moved through that space, was an analogy of public space in itself," Batliner says.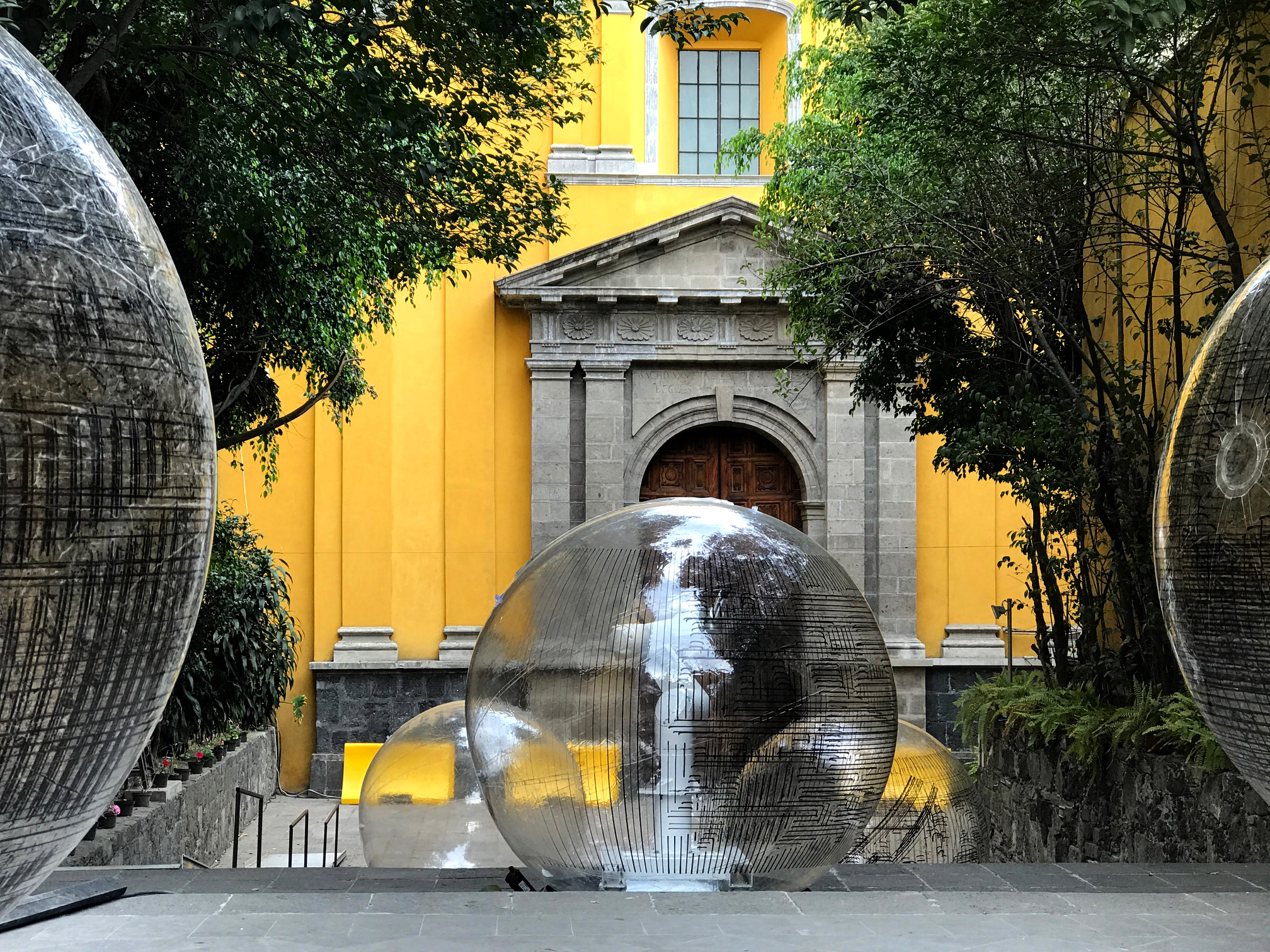 Within the translucent spheres, an industrial robot was placed in the center as a piece of entertainment and distraction. "How we used technology in the physical space was a form of 'archientertainment,'" Batliner explains. "Very much how our cell phones change the way we navigate and entertain ourselves in the public space, the robot, a device with high attention value, influenced and changed the way people navigated public space. Some people stopped in amazement, curiosity, skepticism, or to ask questions; while others did not bother at all but had to move around the people already standing there."
Stretching from Parque Alameda to Bosque de Chapultepec, the spherical paintings showed lifelines of the city, most importantly Insurgentes and Paseo Reforma. The dynamic patterns, and delivery, were designed as an allegory for how technology transforms public space, and how citizens navigate cities differently than 10--or even five years--ago."The spheres were painted throughout the festival, supporting the notion of a constant state of flux," Newsum says. "Just like this metropolis grows and changes, the installation also should never finish." At night, the backlit spheres projected the freshly painted graphics of the city back onto the surrounding historic architecture, enhancing the cultural and urban context of the site.