As part of its liberal arts curriculum, SCI-Arc offers one or two masterclasses each semester to both graduate students and undergraduate students who have completed 10 semesters. The school recently held a masterclass led by Simon Critchley, who has made a career out of bringing philosophy to people through popular subjects. He is the Hans Jonas Professor of Philosophy at the New School for Social Research in New York and a series moderator of "The Stone," a philosophy column in The New York Times. Critchley has authored many books, including Very Little…Almost Nothing (1997), Infinitely Demanding (2007), The Book of Dead Philosophers (2009), and The Faith of the Faithless (2012). He is also one half of the musical duo Critchley & Simmons, which recently released the album Ponders End.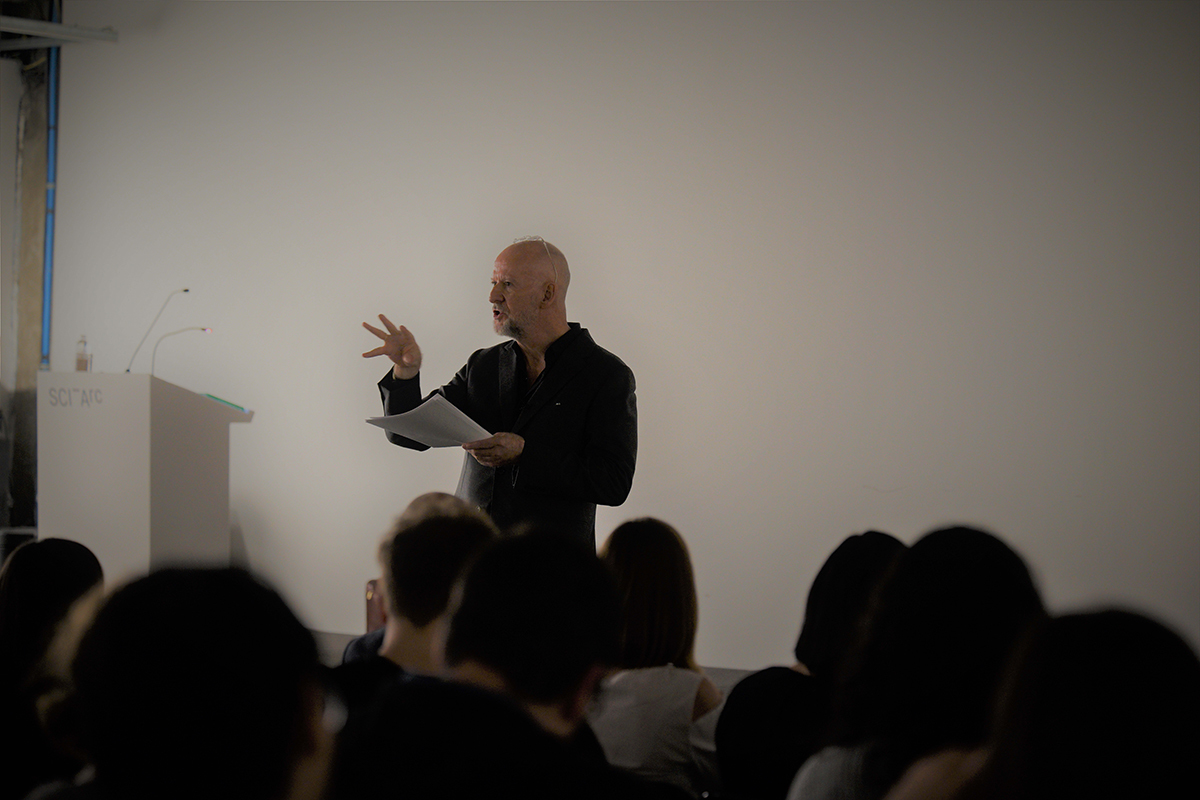 "The primary reason that SCI-Arc offers masterclasses is to expose students to thinkers who are not architects or designers but still have an oblique or tangential interest," says SCI-Arc Liberal Arts Coordinator Jake Matatyaou. "Simon doesn't typically work with art or architecture students, so for him this was an opportunity to learn and be exposed to new things through productive conversation. He is both a charismatic speaker and a good teacher. Through writing a column for The New York Times, he has learned to make complex ideas more accessible and relatable."
In preparation for the masterclass, the 24 participating students read three of Critchley's recent works: Memory Theatre (2014), Notes on Suicide (2015), and Bowie (2016). On Wednesday, November 8, Critchley gave a public lecture at SCI-Arc that focused on his latest book, What We Think About When We Think About Football [Soccer] (2017), which examines the world's most popular sport through his philosophical acumen: What it says about class, race, gender, politics, regional identities, and systems of aesthetics—all of which are relevant to designers.
"Football is about the interpretation of space," Critchley asserted. He uses the term "sensate ecstasy" to describe the extraordinary moments one experiences while attending a live match, though he acknowledges that there is a pensiveness in watching football. Both time and space are "malleable, plastic, and elastic," according to Critchley. Just as the ball comes alive in play, the designs of stadiums shape the actions of the players.
The following day Critchley delivered a lecture that expanded upon concepts presented in Memory Theatre, and during the Q &A session, Critchey and Matatyaou discussed architecture in relationship to memory. On Friday morning Critchley was joined by Michael Stock, a member of SCI-Arc's liberal arts department and the DJ of the PART TIME PUNKS radio show on KXLU 88.9FM, as well as another faculty member in the liberal arts department, Tim Ivison, who focuses on history and theory. Exploring the intersections between music and architecture, the discussion drew from Critchley's novel about David Bowie (before establishing Critchley & Simmons, Critchley, a native of England, had been in a number of bands in the UK punk scene). Later that afternoon, Critchley accompanied Matatyaou on an informal studio tour, during which he talked with students about their design work.
On Saturday Critchley led two sessions, again joined by Ivison as well as SCI-Arc liberal arts department faculty member Melissa Lo, who is a historian of early modern science, medicine, and visual culture. Critchley and the faculty members fielded questions from students, and discussions centered on politics, suicide, and love (in the context of his three works that students had read before the masterclass), as well as tragedy, which will be the focus of his next book.
"By the end of the masterclass, Simon knew a number of the students by their first names, and he had a sense of who they are and where they are coming from," says Matatyaou. A few students who had not initially signed up for the masterclass asked to join after attending Critchley's initial lecture on Wednesday. According to Matatyaou, "The students seemed surprised by how provocative it was. Critchley was very sincere, and he appreciated the intimate nature of the masterclass."