Undergraduate students in SCI-Arc course AMIGAA: Articulation and Tectonics II participated in a one-week workshop led by international climate-engineering firm Transsolar. The workshop underscored an understanding and practical application of environmental control strategies and technologies that directly correlate with students' studio work. Led by Transsolar principal, Dr. Wolfgang Kessling, students used the firm's newest, proprietary software to evaluate building performance and energy demands. These energy studies helped students make informed decisions for their course projects while concurrently developing work tectonically, materially, and spatially.
The workshop provided SCI-Arc students a depth of knowledge typically dispersed in seminars, but workshop formatting helped students integrate energy awareness into their overall awareness. "We've been trying to push the idea of sustainability and what that looks like at SCI-Arc, to go beyond the technical and integrate environmental stewardship into innovative design solutions," says Herwig Baumgartner, Applied Studies coordinator, Design Studio, and organizer of the Transsolar workshop. "Students also begin to develop a network of professionals at the forefront of the field, which will help them in their post-collegiate, professional lives."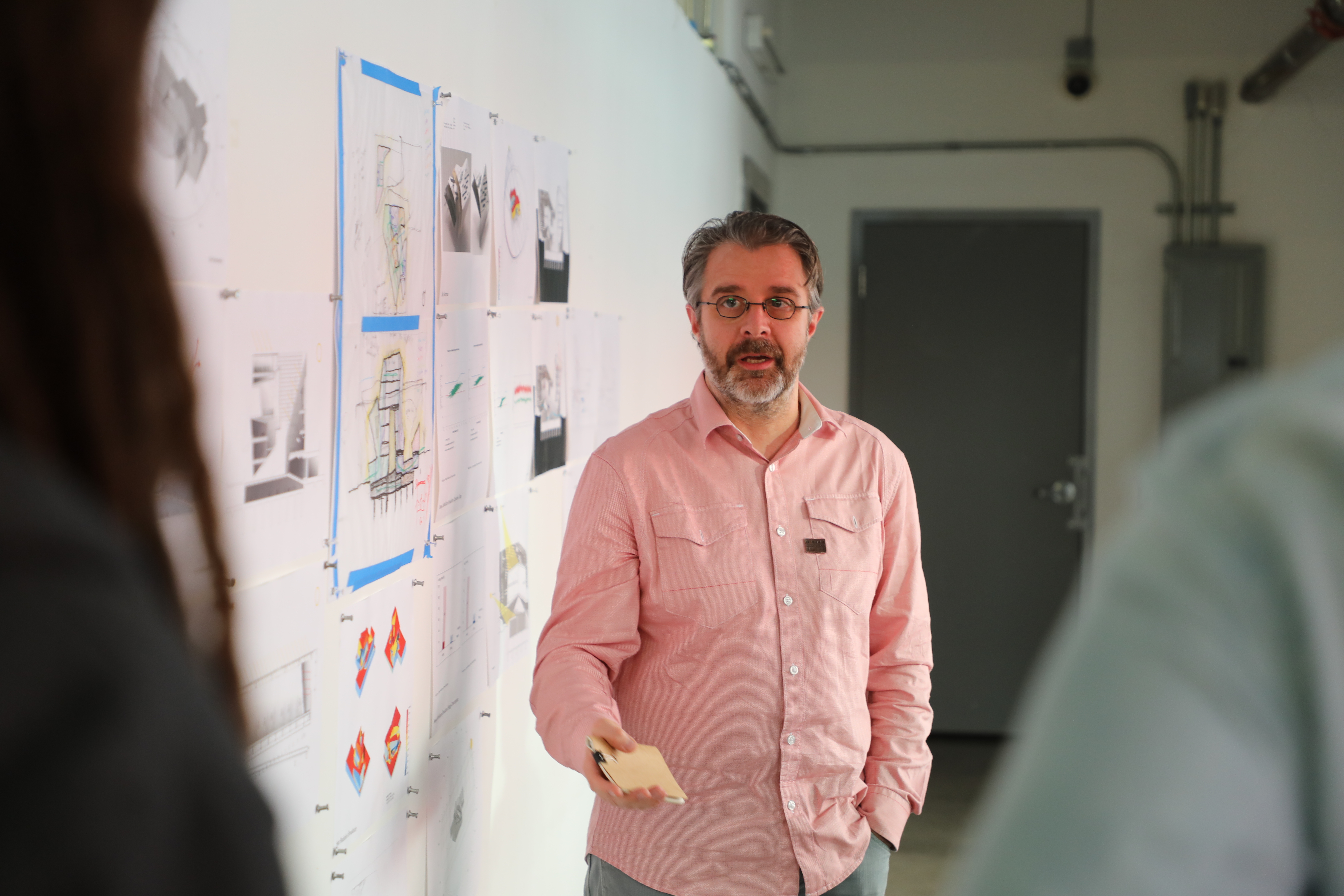 Studio work focused on concepts for a West Berkeley Public Library, where students proposed their own ideas for what is now California's first net-zero building certified under the Living Building Challenge, designed by Harley Ellis Devereaux. Transsolar's TRNSYS software was used to optimize solar and energy use. "The conversations [throughout the workshop] generated ideas and techniques that influenced how our proposal was distributed programmatically and helped define the buildings' posture," Baumgartner says.

One student project, for example, from Hannah Lee combines three extruded volumes within a tri-layer skin: a glass layer supported by a geometric contour structure, and two layers of black and silver fiberglass articulated through rectilinear, overlapping patterns.
"Through the Transsolar Workshop, I have learned ways in which architectural design can incorporate small yet massive moves that change internal energies to produce a comfortable net zero building," Lee says. "This has made me aware of the effects of apertures facing certain directions, and allowing for natural ventilation to let the building breathe instead of artificially controlling internal temperatures."
Another project from Tony Avila and Erik Valle explored part-to-whole relationships employed gaps in seams across each building section, creating different qualities for interior space and infrastructure, and highly specific to the needs of the programmatic spaces. "The building, organized around a central Nexus that contains the central book stacks in a protective membrane, acts as the primary mode of circulation," Valle explains. "This design makes visitors conscious of each component when they enter and exit a new space within the library."