Exhibit Columbus has named the winners of the J. Irwin and Xenia S. Miller Prize Competition, which will adapt five of Columbus, Indiana's 70-plus noteworthy works of architecture, including several modern masterpieces. Nicknamed "Athens of the Prairie," the city of Columbus features a unique concentration of modernist architecture by founders of the movement, including Eero Saarinen, I.M. Pei, Robert Venturi, Cesar Pelli, and Richard Meier. The Miller Prize honors the architectural patronage of the eponymous Columbus resident, second CEO and nephew of a co-founder of local diesel engine manufacturer Cummins Inc. In 1957, Miller instituted a program in which the Cummins Foundation, which he also founded, would pay architects' fees for any new civic work, provided the client selected a firm from a list compiled by the foundation. Fast forward to a 2016 symposium and 2017 exhibition, Exhibit Columbus' inaugural Miller Prize will update five of the city's sites with the help of five US-based architectural firms. Selected by both a jury of design professionals and members of the community, Miller Prize Site 3 Irwin Conference Center by Eero Saarinen and Associates has been awarded to SCI-Arc faculty members Dwayne Oyler and Jenny Wu of the Oyler Wu Collaborative.
"Columbus has a very long history of selecting architects who matter over a longer period than any single project," says Dwayne Oyler, co-founder of the Oyler Wu Collaborative. "To be a part of this kind of legacy is a great thing, so we're, of course, honored to be part of it."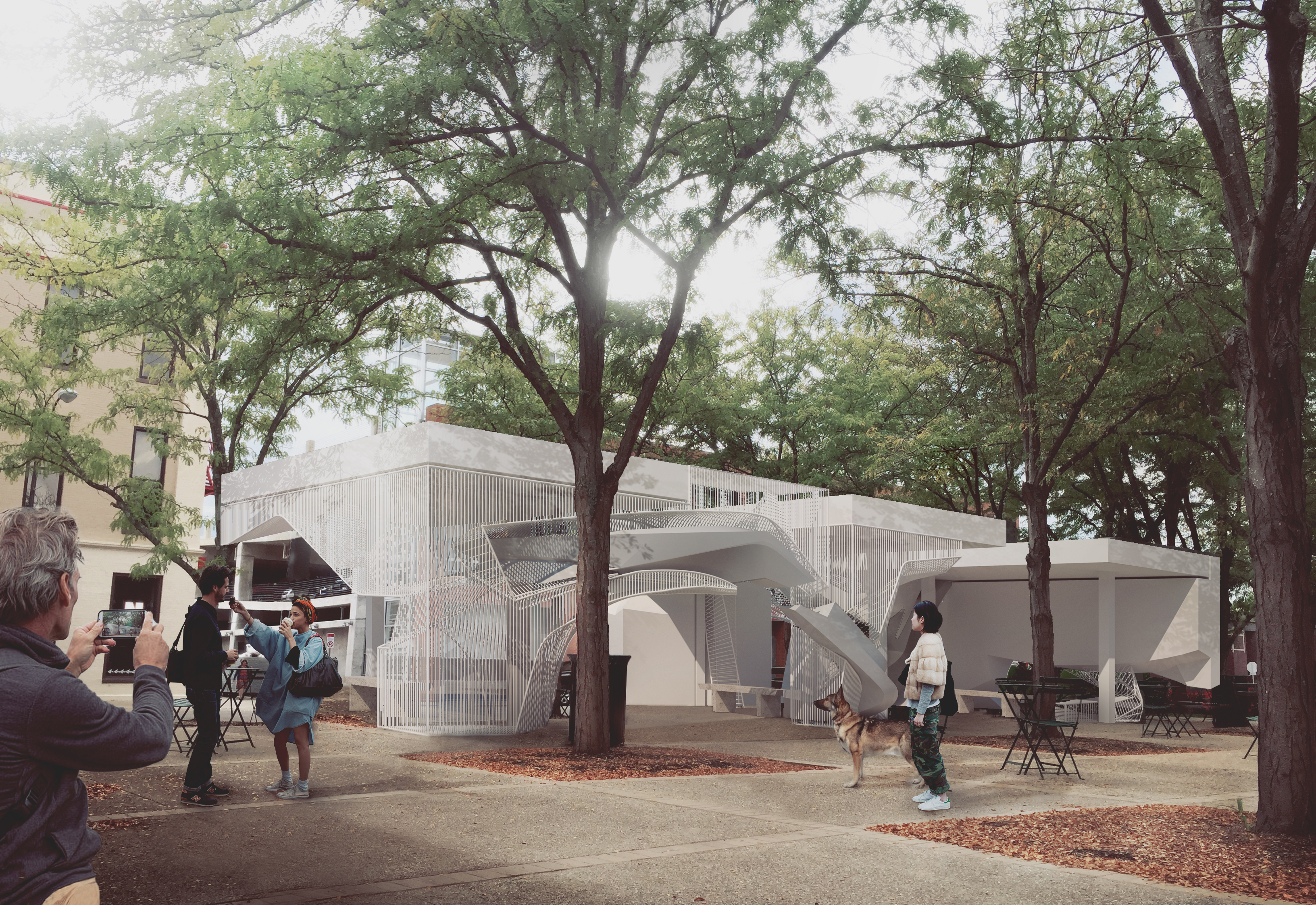 "Miller Conference Center Pavilion" by Oyler Wu Collaborative
Oyler and Wu's winning design adapts Eero and Eliel Saarinen's Union Trust Bank, which has functioned for the last ten years as a conference center for Cummins, Inc. Originally constructed in the 1960s, three drive-up bank teller bays are the focus of the metamorphosis. The bay canopies have evolved into a loosely defined public plaza, and Oyler and Wu's proposal helps further define boundaries through a design language that simultaneously honors the building architect's vernacular, while setting up a striking contrast between the two.
As self-described "huge fans" of Saarinen, the Collaborative's research included visits to not only the former bank site, but a wide swath of the architect's work in search of patterns and progressions across Saarinen's buildings. Starting with his early work, the design team noted a shift in Saarinen's approach to columns that carried heavy structural loads, expressed as lightly as possible.
"We tried to look for those moments in the Union Trust Bank, and found them in these domes with very beautiful skylights that shine light up on the dome," Oyler says. "You could argue, in the early part of his career, this was his early attempt at lightening the roof and concealing the light source—essentially an early expression of a technical solution to produce a more poetic light effect that helped define one of his signature aesthetics."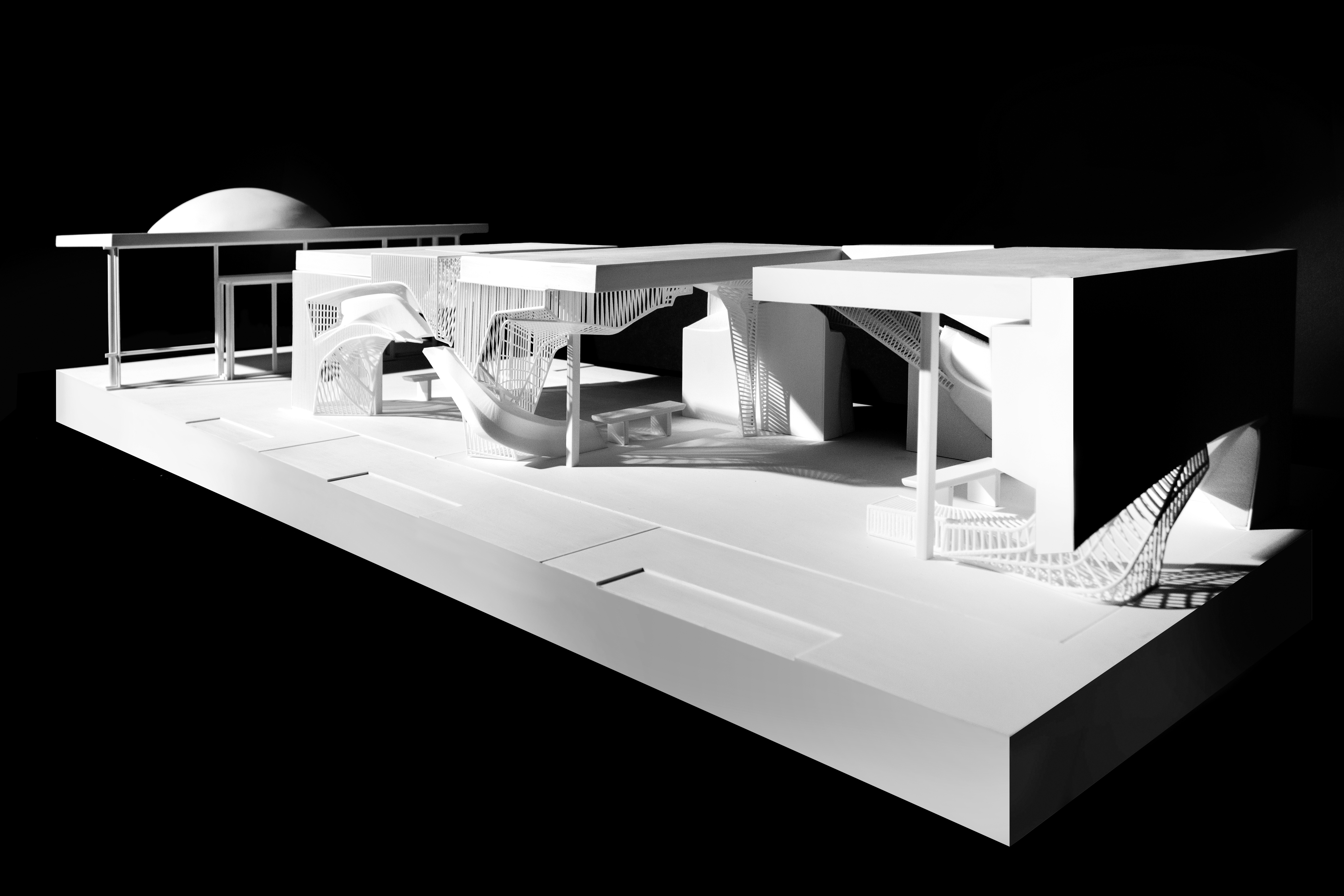 By imagining the canopies as one 54-by-21-foot volume, the Collaborative's design completes the canopy form with minimal intrusion: L-shaped 10-foot tall steel screens on opposing corners that help define the space without closing it off. Applying various tectonic themes, inspired by Saarinen's detail work, one screen is expressed as a solid wall, a few feet thick with opaque panels. The other is a translucent and light frame that incorporates Saarinen's signature design gesture—slivered light and the suspended connection of objects.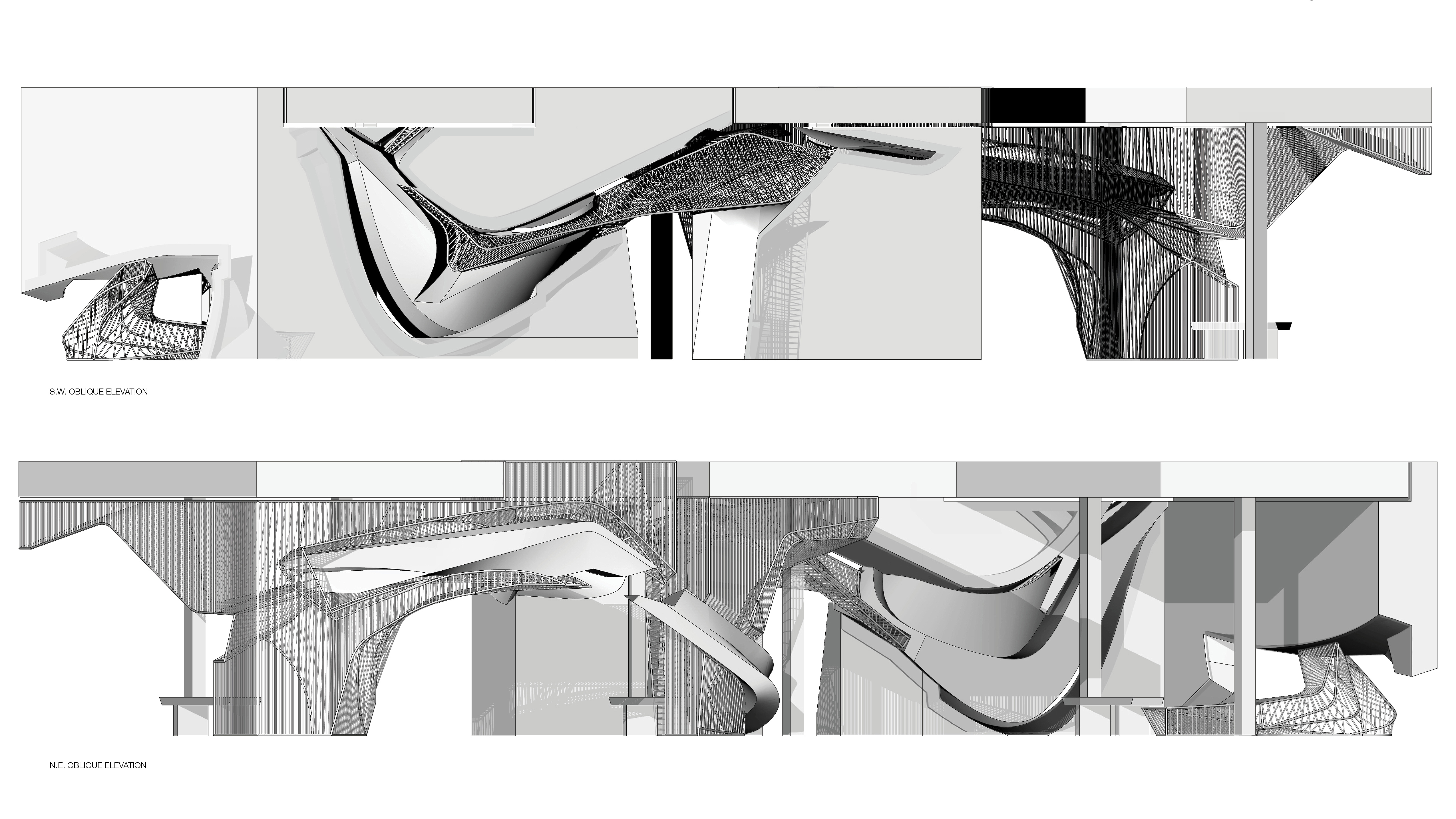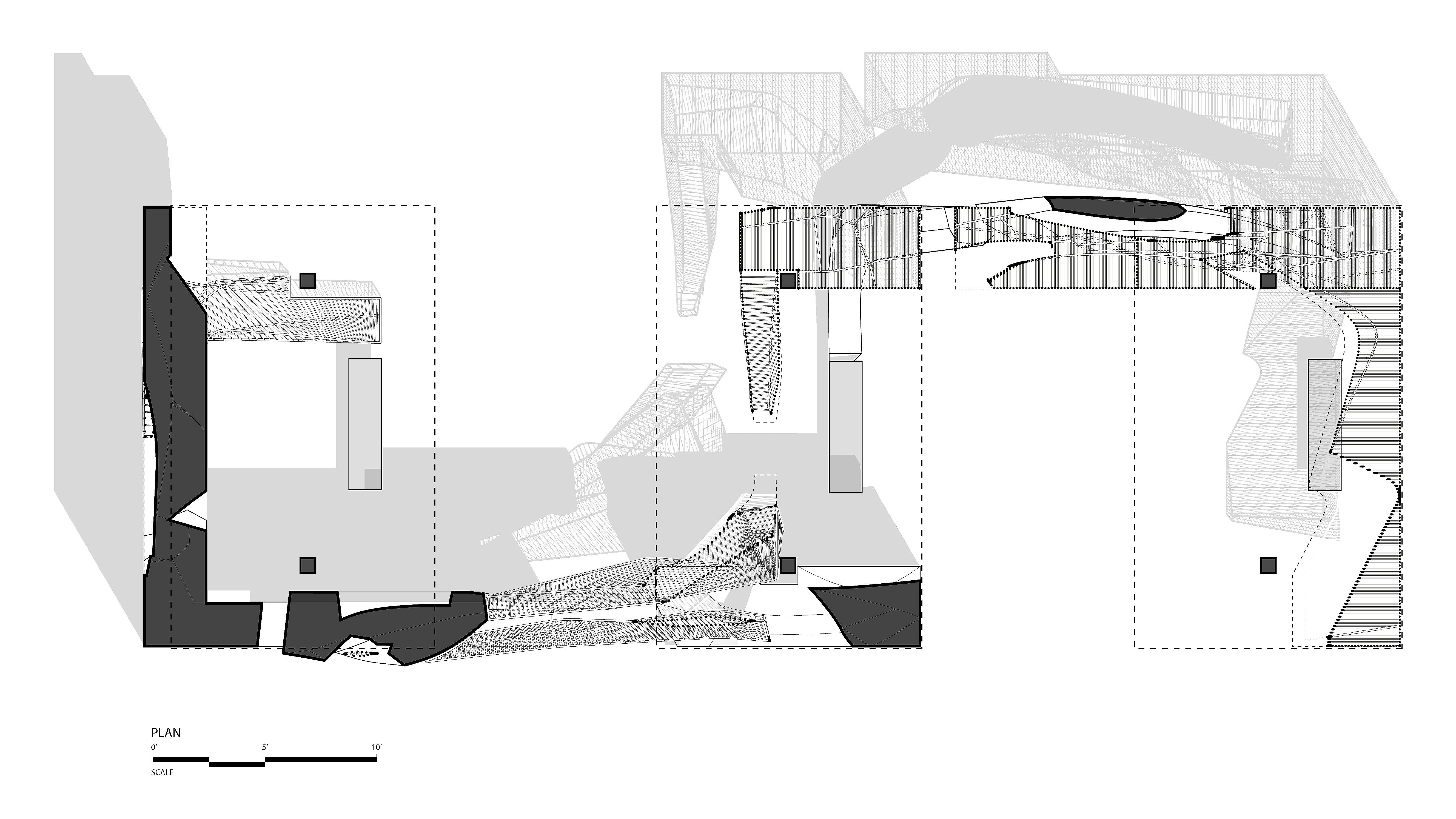 "The challenge in a place like Columbus, where there's enormous respect for architecture, is taking a set of principles from the original architects and understanding that their mission was to push the envelope and belong to the foreground of architecture," Oyler says. "We can be respectful by applying that thought to modern times where the idea isn't to match: The idea is to expand on principles and design an appropriate tension between the past and future works."
The 2016 Miller Prize guest jurors were Sean Anderson, associate curator in the Department of Architecture and Design, Museum of Modern Art in New York; Lise Anne Couture, co-founder and principal, Asymptote Architecture in New York; Jennifer Dunlop Fletcher, Helen Hilton Raiser Curator of Architecture and Design, San Francisco Museum of Modern Art in San Francisco; and Dung Ngo, publisher, August Editions in New York.
Members of the Columbus community representing each of the Miller Prize sites were Jason Hatton, director, Bartholomew County Public Library; Mark Jones, director, Columbus Parks and Recreation; Brad Manns, executive director of Global Integrated Services-Facilities, Cummins Inc; and Larry Ruble, archivist, First Christian Church.