With the theme "Make New History," the second edition of the Chicago Architecture Biennial features the works of more than 140 practitioners from more than 20 countries. Sharon Johnston and Mark Lee—founding partners of the Los Angeles–based architecture firm Johnston Marklee—are the artistic directors of the biennial, which is hosted by the Chicago Department of Cultural Affairs and Special Events at the Chicago Cultural Center. Outside of this main exhibition, the biennial also includes off-site locations and an extensive series of public programming. This year, three SCI-Arc faculty members have projects on view at the biennial: Graduate Program Chair Elena Manferdini and Design Faculty members Andrew Zago and Anna Neimark.
Atelier Manferdini: Building Portraits
Her fascination with the work of Ludwig Mies van der Rohe inspired Elena Manferdini, principal of Atelier Manferdini, to conceive a set of drawings with intricate scripted vector lines forming colorful grids that resemble textiles. Manferdini used nine iconic photos of Miesian facades as a point of departure for her initial exhibition, "Building the Picture," which debuted at the Art Institute of Chicago in 2015. Her continued explorations formed the basis of a second iteration, "Building Portraits," which is now on view at the biennial.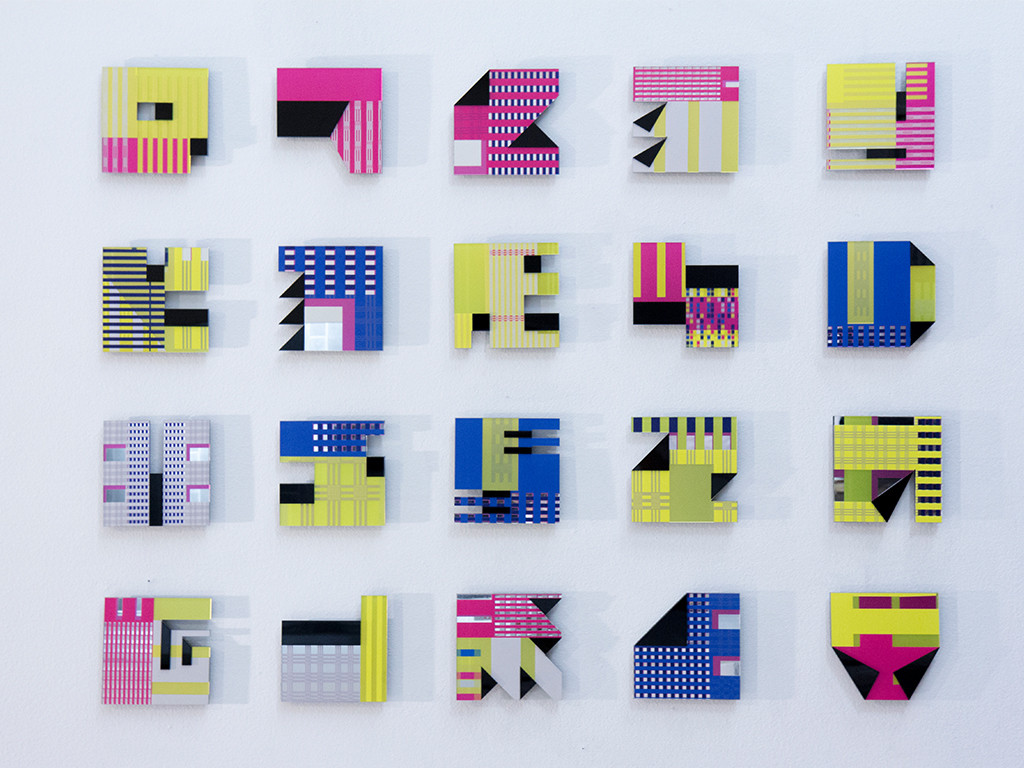 "Mies used the grid in a democratic and political way," says Manferdini. "There was a transparency in production." Though Mies's modular, gridded facades simultaneously celebrate and reveal construction methods, materials, and structural systems, in some instances, he added extraneous mullions that were purely ornamental in order to create interesting visual effects. Such deviations formed the basis of Manferdini's collection of drawings, which explore relationships between color, form, pattern, and orientation, establishing common ground between architectural drawings and artistic portraits: "where pixels and vectors get closer in scale of perception." Manferdini revisits the traditional grid through the lens of modern technologies with the aim of providing "a working methodology towards a contemporary aesthetic of computational, directional, dynamic grids."
Zago Architecture: Visual and Performing Art Center at the University of Illinois at Chicago

Andrew Zago and Laura Bouwman, partners at Zago Architecture, present a proposed project for a visual and performing art center at the University of Illinois at Chicago. A selection of models—including study models, a finished version created specifically for the biennial, and a large mock up of the building's facade system—are installed in Herda Hall, an expansive corridor in the Chicago Cultural Center. Mounted to a wall with steel brackets, the 28-by-48-foot mock up consists of three layers of 297 colored aluminum panels, each measuring approximately 22 by 60 inches. The facade design resulted from a series of studies on tectonic approaches to atmospheric color effects, which can be achieved in paintings but prove challenging to translate into architecture.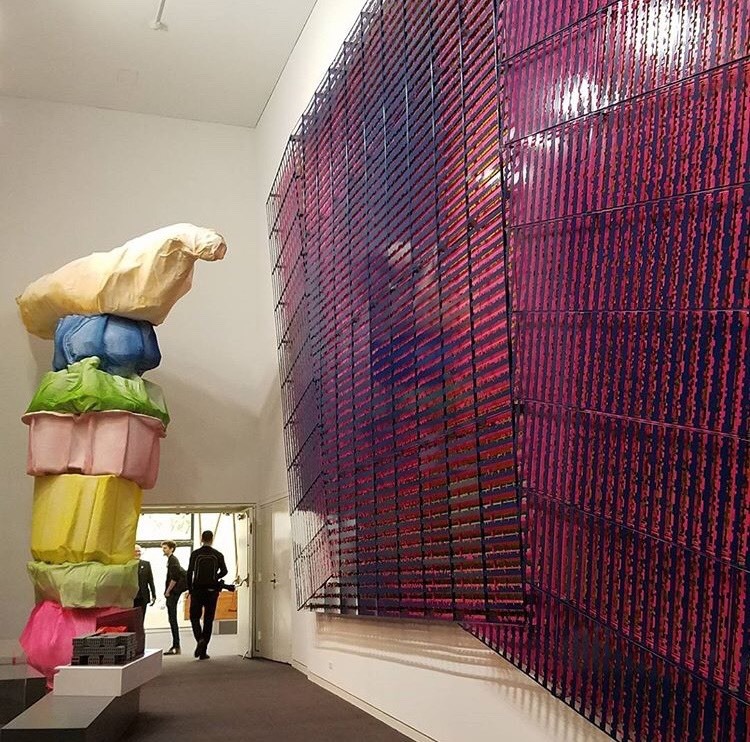 The project team includes several SCI-Arc students and alums, such as Sarah Blankenbaker, Clinical Assistant Professor of Architecture at the University of Illinois at Chicago, and SCI-Arc Assistant Teacher Cody Miner, who directed the installation.

First Office: Josephine, Strawberry, and Wilson

For the collective project "Horizontal City," 24 architects and firms—including First Office, which is led by Anna Neimark and Andrew Atwood—were invited to choose a photograph of a historical interior and translate it into a horizontal model on a plinth roughly the dimensions of a queen-sized bed. On display in the GAR Hall gallery at the Chicago Cultural Center, the models' sizes and locations relate to Mies's 1947 campus plan for the Illinois Institute of Technology (IIT).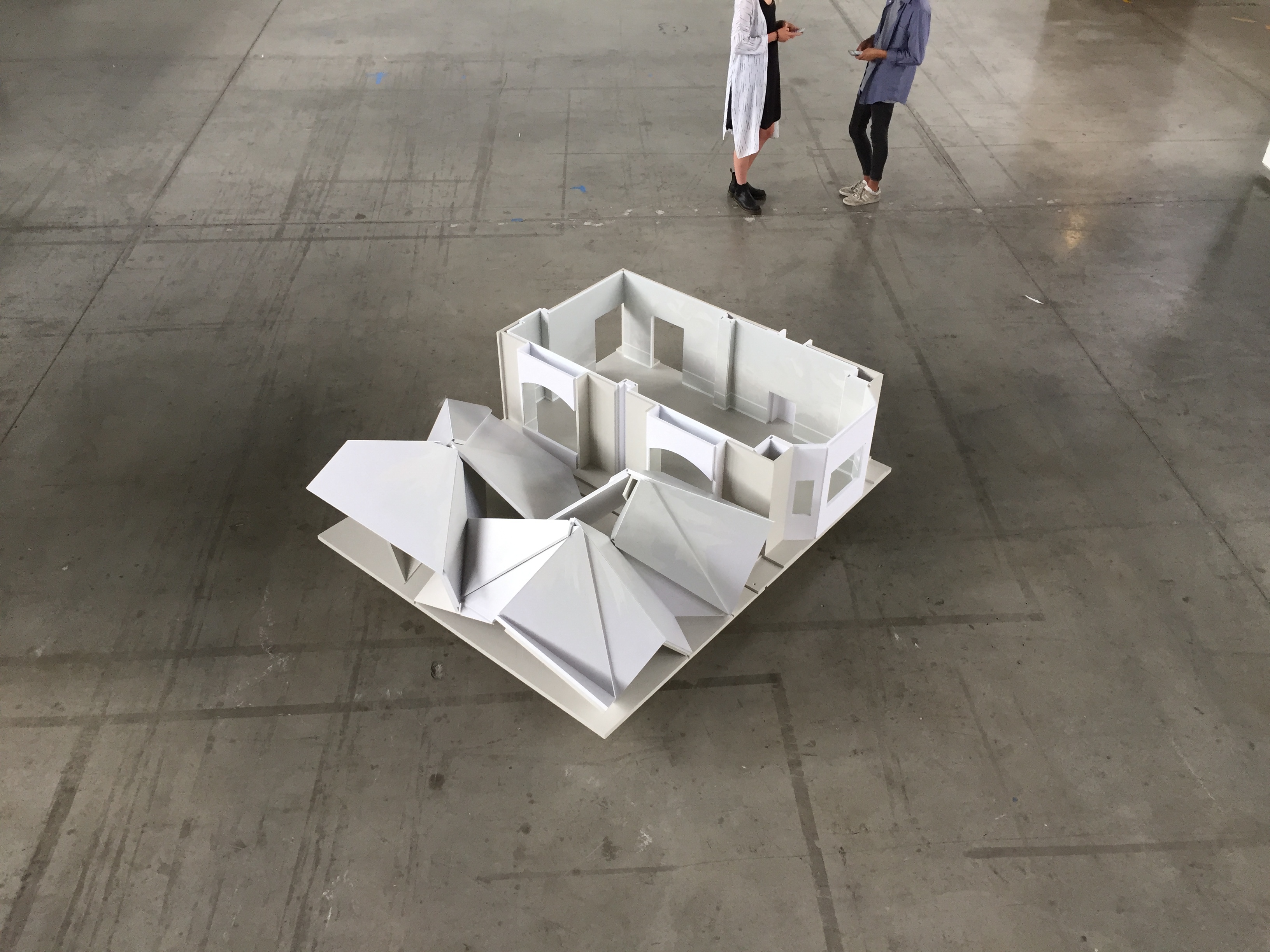 First Office selected an 1879 photograph of the great hall of La Vedette, the final home of French architect Eugène-Emmanuel Viollet-le-Duc in Lausanne, Switzerland. The photo depicts walls covered in murals of a mountain range, and some features correspond to architectural elements within the space, such as mountain peaks that are centered on door frames, openings, and the fireplace. For the biennial, First Office conceived a pair of models shown side by side. One recreates the hall with foam board overlaid with printed drawings of the alpine murals, while the other transforms the 2-D mural into architectonic forms that evoke a trio of jagged mountain peaks, which First Office named "Josephine, Strawberry, and Wilson."

The Chicago Architecture Biennial is free and open to the public through January 7, 2018.