Architectural design practice FreelandBuck, co-founded by SCI-Arc faculty member David Freeland, is a firm known for its research and practice that focuses on the spatial potential of patterned systems. Its latest installation is "Parallax Gap," a 2,500-square-foot canopy suspended from the ceiling of the Bettie Rubenstein Grand Salon, the largest room at the Renwick Gallery of the Smithsonian American Art Museum. FreelandBuck was awarded the winning entry in the museum's "ABOVE the Renwick" competition, which drew submissions from eight other firms including Ball-Nogues Studio, Collective-LOK, Ibañez Kim, Iwamoto Scott, Joseph Giovannini, Oyler Wu Collaborative and Matsys Studio.
"We are excited to have our work exhibited at the Renwick where so many people will have the opportunity to experience it," Freeland says. "Free to the public, the Smithsonian is an important institution in the development, support, and exhibition of American arts and culture. We feel fortunate for the opportunity to make a contribution at a national level."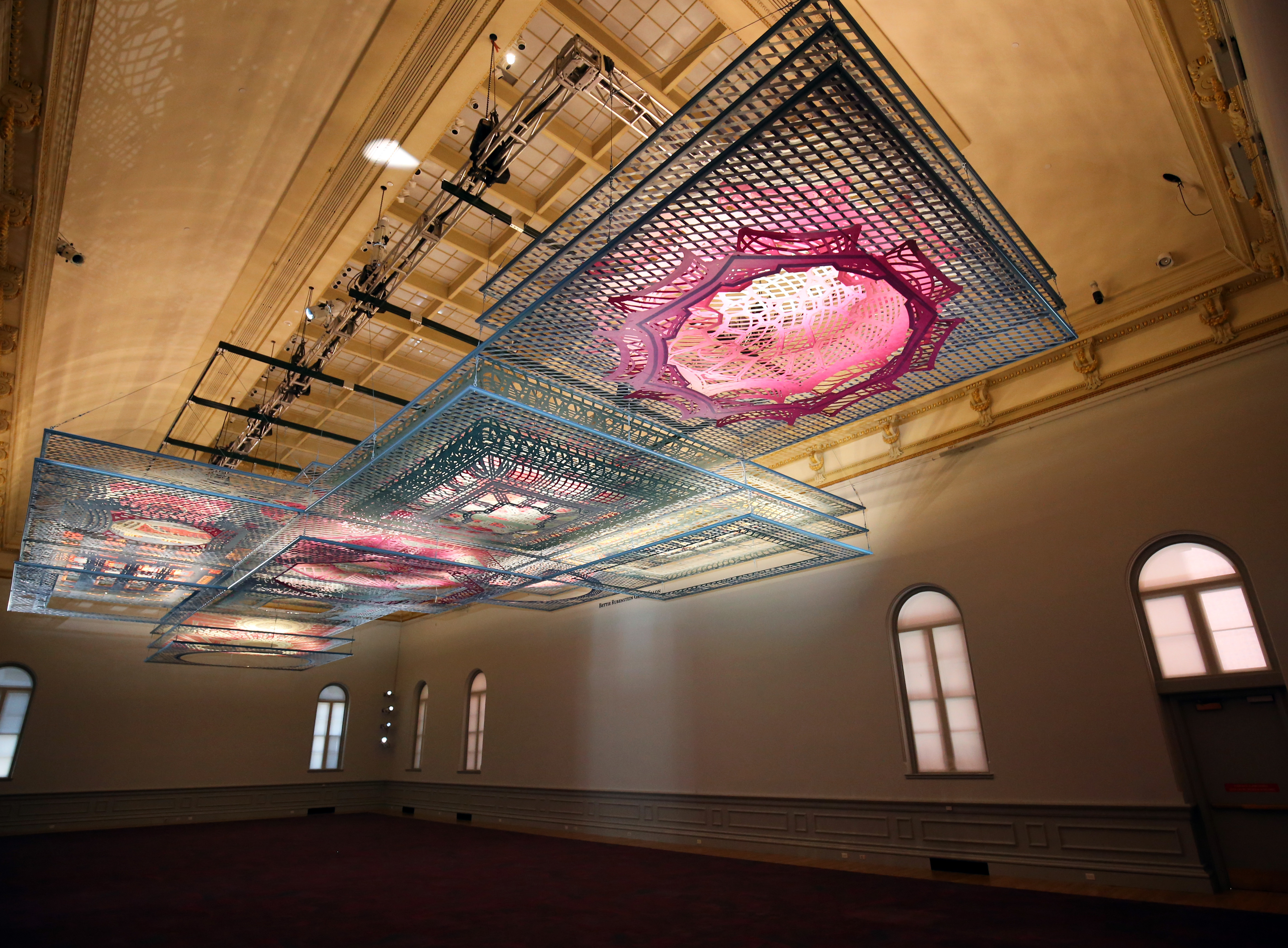 FreelandBuck's installation draws on the Renwick's unique historical context in the American gallery landscape. The Renwick Gallery was the first American building designed specifically as an art museum and the first to adopt a new style called Second Empire, inspired by Louis XIV's architecture in France. "Its history is a big part of the museum's identity, so we wanted the installation to serve as a field guide to American architecture at that time," Freeland explains. "The eclecticism of Victorian-era architecture gave us a variety of patterns and shapes that we brought together through a consistent method of drawing." "Parallax Gap" features nine ceilings from buildings built contemporaneous with the construction of the Renwick Gallery, which was completed in 1874. Iconic American architecture from Second Empire, Victorian Gothic, Art Deco, Richardsonian Romanesque, Beaux-Arts, and Greek Revival styles are all represented with a unique take on one of the most well-recognized ceiling treatments: Trompe l'oeil. Literally translated from French as "optical illusion," trompe l'oeil functions from a single vantage point, usually the center of a nave or directly under a dome. From other points of view the illusion fails, rendering figures out of scale, and disorienting space. The FreelandBuck installation highlights those gaps in perspective--the word "parallax" refers to an apparent difference seen from two different lines of sight--presenting a visual puzzle for viewers to solve.