'Control' Exhibition by M. Casey Rehm Opens at the SCI-Arc Gallery
The gallery lights have been turned off, leaving only the artificial glow of several digital projectors. Curious onlookers circulate through a series of semi-translucent mirrors, which function as rear-projection screens while also retaining their reflective properties. Viewers see bits of themselves captured by nearby cameras, fed through various processing scripts and then projected onto the mirrored surfaces alongside their physical reflections. Such a collapse of digital technologies, material effects, and human subjects speaks directly to the complex dynamics between surveillance and interactivity in contemporary architecture.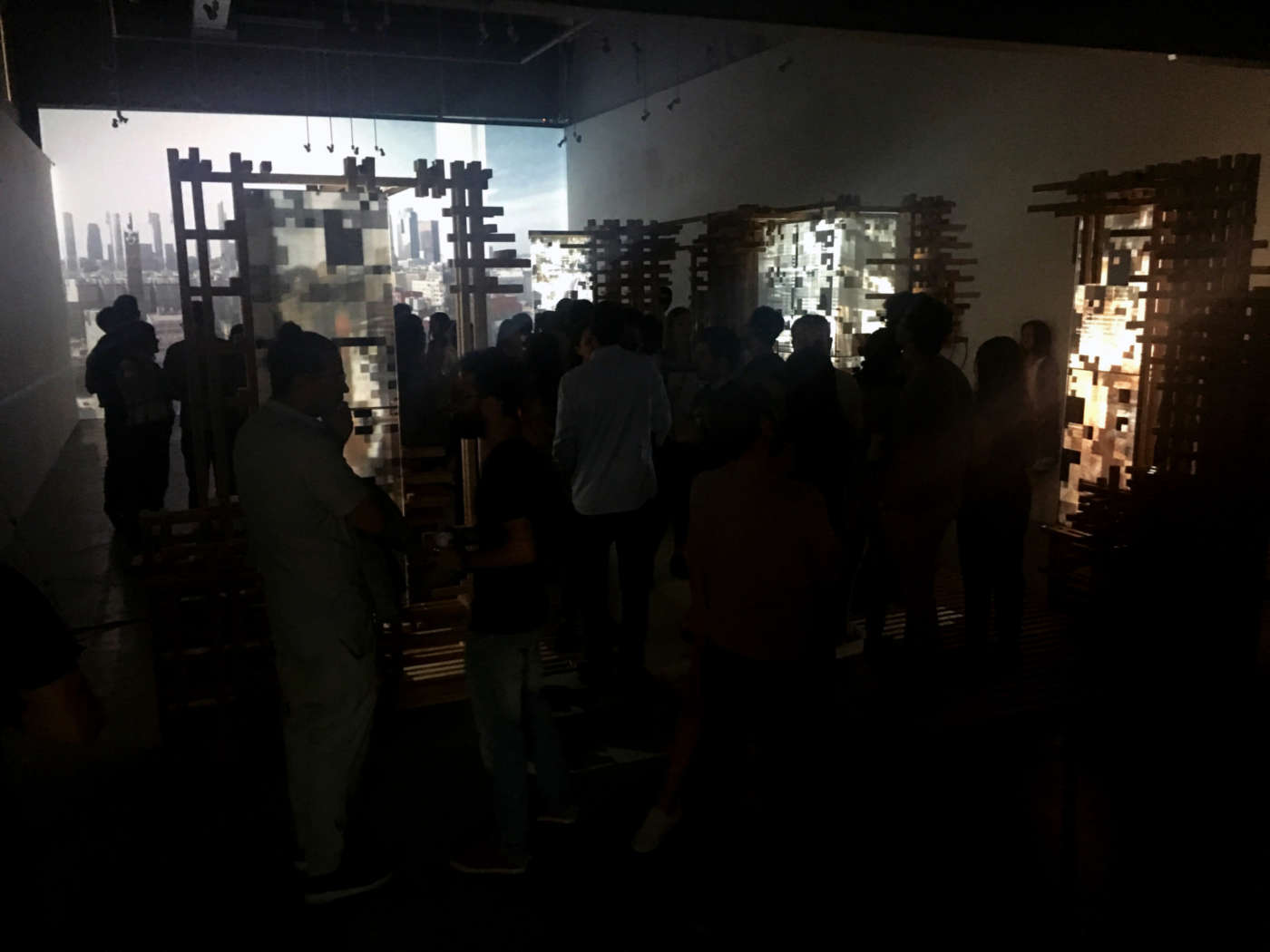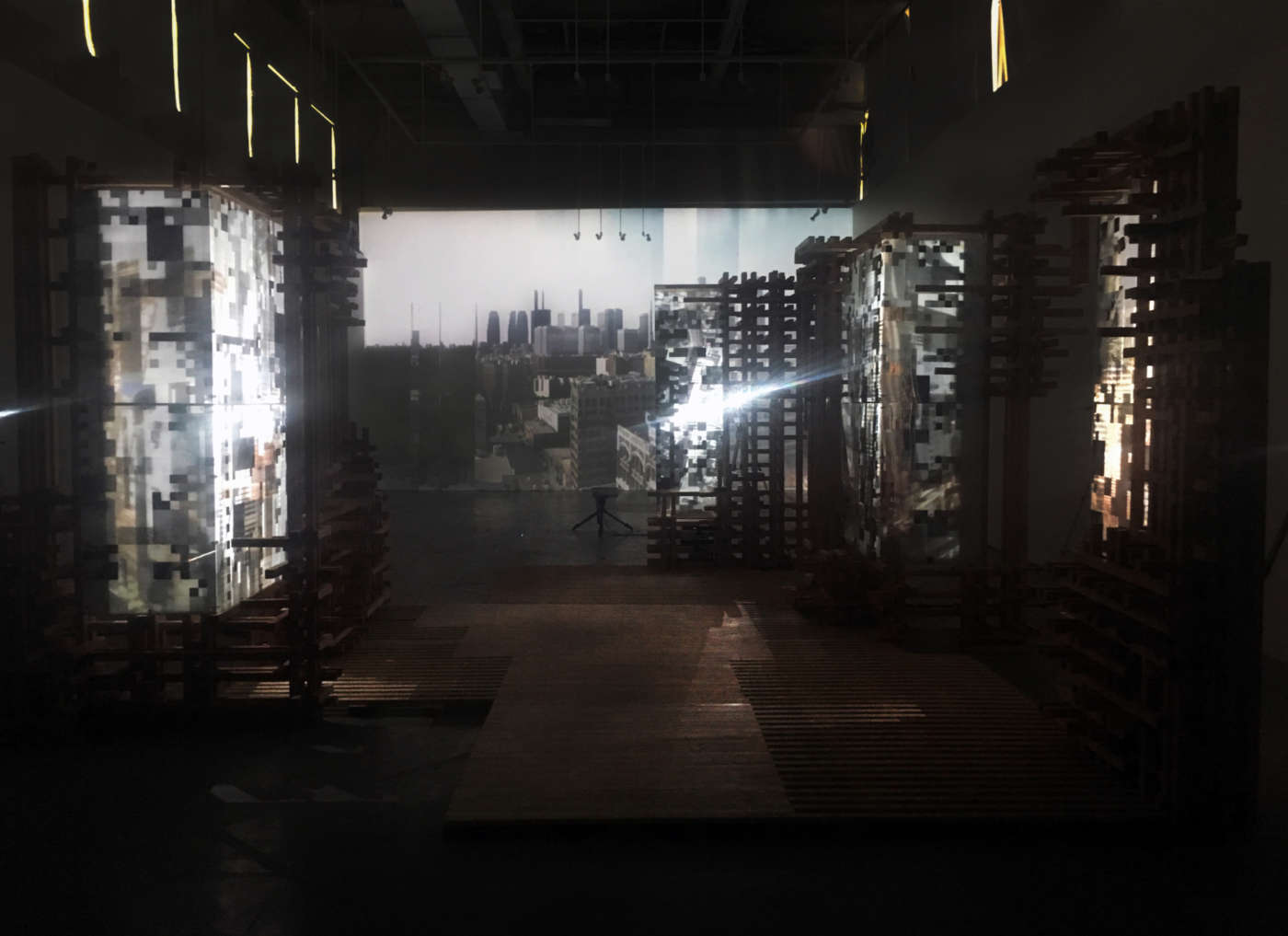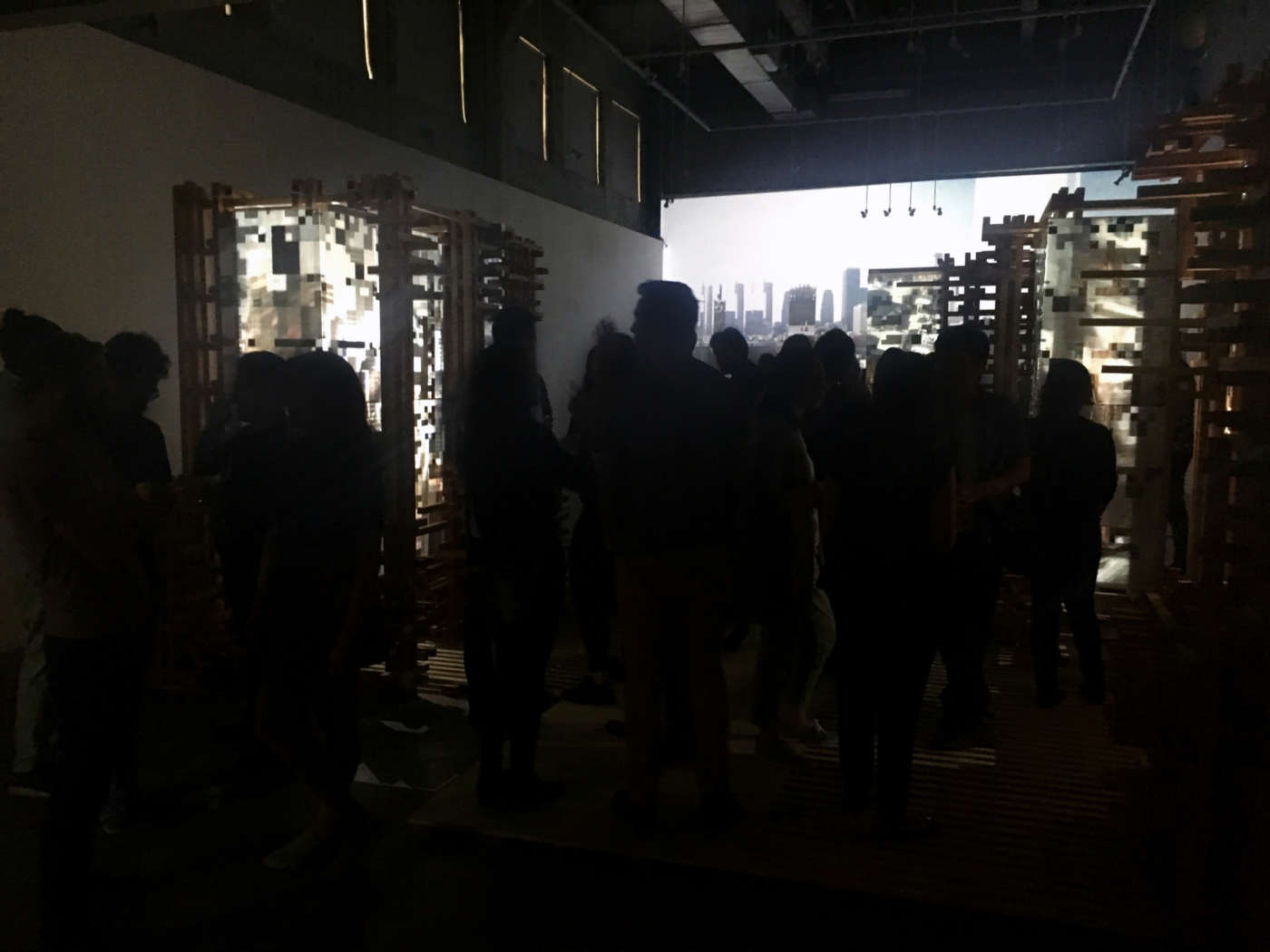 This was the scene on Friday, July 1st, when M. Casey Rehm's exhibition, "Control," opened in the SCI-Arc Gallery.
Rehm's installation transforms the gallery space into an immersive environment showcasing his novel application of algorithmic processing, mediatized surfaces, and pixelated tectonics. Its design began with precise calculations to position the six, mirrored screens according to optimal projection distances. Then, a script was used to generate a tectonic armature for the screens comprised of discrete, linear elements. An additional projection takes over the entire back wall of the gallery, using motion-capture technology to control the position of a drone's-eye-view of Los Angeles.
Each of the mirror projection screens attached to the tectonic armature is etched with intricate patters and programmed with a different combination of input variables and processing techniques. Some display pre-recorded footage that responds to the movement of viewers, while others splice together bits of real-time video. In each case, the result is a transfixing blur of digital bliss.
Embedded within the aesthetic of Rehm's exhibition is deep conceptual interest in surveillance and the ubiquitous integration of digital technologies into our everyday environments. According to Rehm, "The ways in which we are recorded, measured and analyzed and the overlay of these platforms and systems in the physical world is an inherently spatial and architectural problem. It's important that we begin to engage this space in order to maintain the relevance of our discipline."
The fact that future buildings will integrate systems of surveillance and data collection into their structure is now a given. Rehm's exhibition reflects on the potential opportunities within this new normal. Rather than seeing digital technologies as an architectural appliqué, "Control" explores the radical proposition that they can become the central thrust of a disciplinary project.
"Control" will be on display in the SCI-Arc Gallery until July 31st.
Zachary Tate Porter is an educator, designer, and historian based in Los Angeles. He studied architecture at the University of North Carolina at Charlotte, where he received his Bachelor of Arts and Architecture and his Master of Architecture degrees. In 2011, Porter moved to Atlanta, Georgia to pursue a PhD in architectural history at the Georgia Institute of Technology. His dissertation project, "Shifting Grounds of Architectural Practice: Boundary Conditions and Field Formations in the U.S. Design Professions," analyzes the ways in which professional jurisdiction shaped conceptions of landscape and site within American architectural practice. Porter currently teaches at the Southern California Institute of Architecture (SCI-Arc) where he serves as the 2015 - 2016 Design of Theory Fellow.